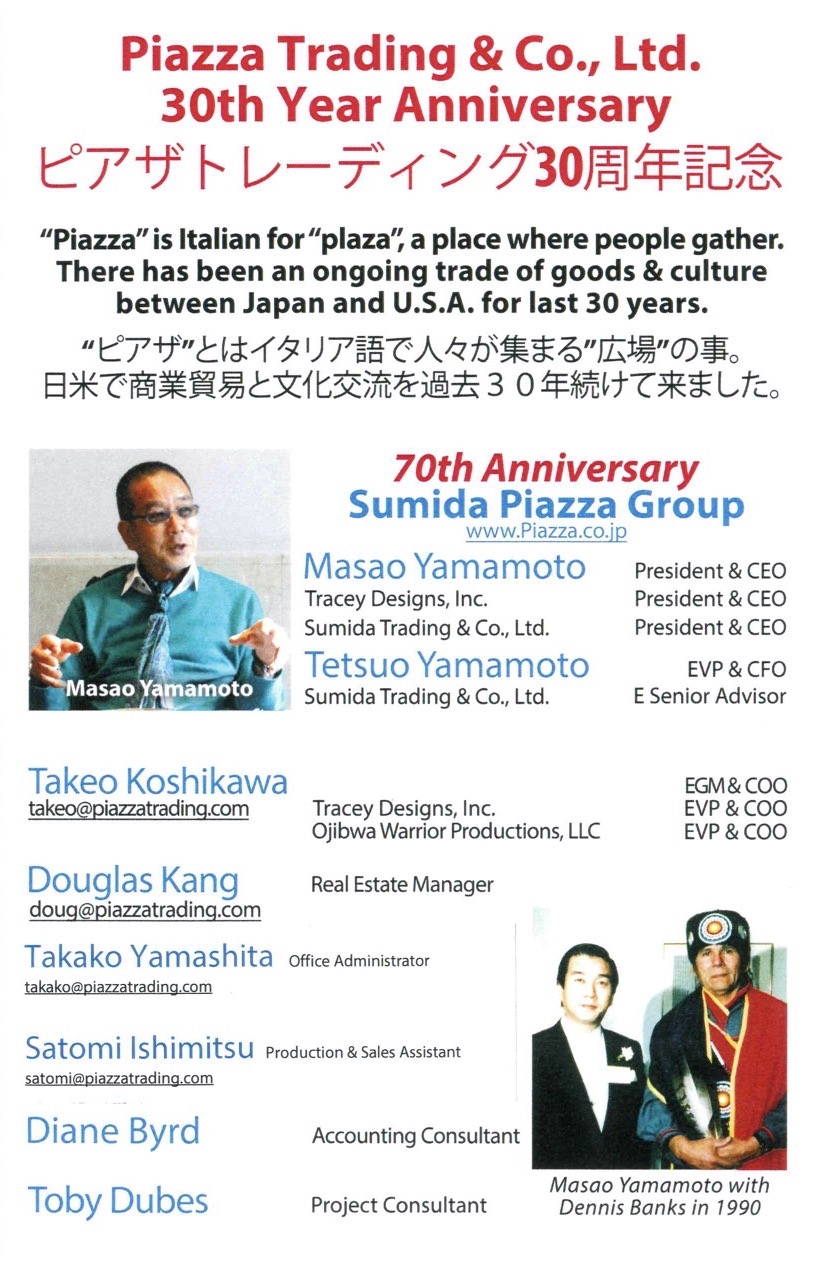 About Piazza Trading
Piazza Trading & Co., Ltd. is an ecologically and cultural minded company striving to conduct sustainable business in an ever growing competitive market. Our office is located in Sausalito, CA where we have conducted business for over 30 years.
Our many successful business endeavors have allowed us to promote cultural exchange between our parent company, in Japan, and America. We have promoted and traded American Indian Foods, and Southwest Jewelry.
In Tokyo Japan many stores sell our products and goods. The Ray Tracey Shop in Harajuku carries high-end southwestern jewelry in Tokyo. Dennis American Grill is a restaurant proud to promote the Slow Food lifestyle, and serves primarily organic natural foods. Their menu boosts such delicacies as Hand Harvested Wild Rice, & Maple Syrups.
If you have any questions about our business please don't hesitate to contact us at our business offices.
---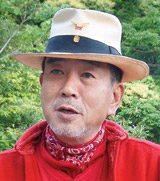 Masao Yamamoto
President & CEO
Sumida Piazza Group, Tokyo, Japan
www.Piazza.co.jp
Piazza Trading & Co., Ltd., USA
The management philosophy of Piazza Trading & Co., Ltd. is grounded in two principles: Centered Values (balanced cultural and commercial exchange with a focus on location) and Independent Spirit (self-supporting and independent management policies). Since our founding in both countries, we have implemented various cultural and trading activities between Japan and the U.S. based on these principles, with global environmental protection and healthy living emerging as key themes.
In 1989 Piazza Trading purchased the Piazza Building in Sausalito, California, as our corporate headquarters. We grounded our economic base by purchasing buildings for commercial lease, one in San Francisco in 1992 and another in Novato in 1994. Building on our themes of environment and health, we began trading Native American products – foods, jewelry, and artworks. In 2005 we established Tracey Designs Inc. with Ray Tracey, who is a world renowned Navajo artist.
We strive for balance between business and culture to maintain meaningful links between Japan and the United States, now and in the future.
---
---
Company Contact Information
Piazza Trading & Co., Ltd.
819 Bridgeway 3rd & 4th Fl.
Sausalito, CA 94965
Phone:(415) 331 6711
Fax: (415) 331 7064